How to turbocharge your sales navigator subscriptions with powerful cold email campaigns
Marketing Sales Linkedin September 19, 2021
If you have a LinkedIn Sales Navigator subscription you are probably already aware that the amount of connection requests you are allowed to send just went from 100-per-day to 100-per-WEEK! The Sales Navigator is still the most powerful prospecting tool on the market for finding your ideal customers, so how do you still do effective cold outreach when your limits are 1/7th of what they used to be?
We recommend turbocharging your subscription with cold email campaigns that run off of the Sales Navigator, but aren't affected by LinkedIn's limits. In this article, I'll be showing you how to use Trident Outreach to turn your Sales Navigator searches into detailed lead lists and powerful cold email campaigns that'll have your calendar filling up with meetings from your ideal customers!
Full disclosure: Trident Outreach is a tool that hunts down and verifies the emails of everyone in a sales navigator search and engages them in customized email campaigns sent from your email. If you don't have Trident Outreach, you can start your free trial and get 100 leads absolutely free!
Build your Sales Navigator search
To start off, you'll want to create a search that contains your ideal customers. Sales Navigator searches can be complex and highly targeted, so we recommend reading our post on creating complex searches so that you can create a pool of people that will be receptive to your offer.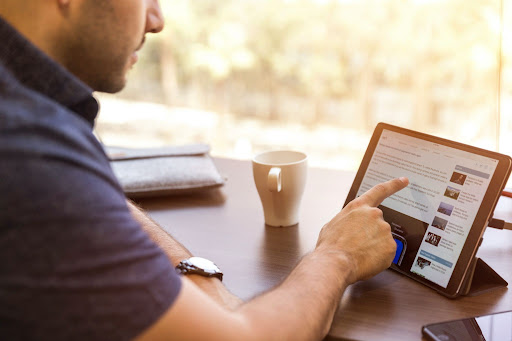 Plug your search into Trident Outreach
Once you've created your search, it's time to plug the results into Trident Outreach. Simply navigate to the "New Campaign" tab and enter the URL from your Sales Navigator search. This will let the software know exactly what leads you want to target with your campaign.
Build out a great email campaign
Now that Trident Outreach knows what leads you're targeting, it's time to start crafting your cold email campaign. We recommend reading our post on how-to write a great cold email for some inspiration and advice– worst case, you can always edit the emails later to get them dialed in!
Publish your campaign and Let Trident get to work
Once you've crafted your email content, hit publish on Trident Outreach and let it get to work. Trident will immediately start hunting down the emails of hundreds of your prospects every day, and engaging them with your email sequence! You'll be able to track the progress of your campaign with a robust dashboard that lets you know how many emails have been found and verified, how many have been sent, along with other analytics that help you keep track of your campaign.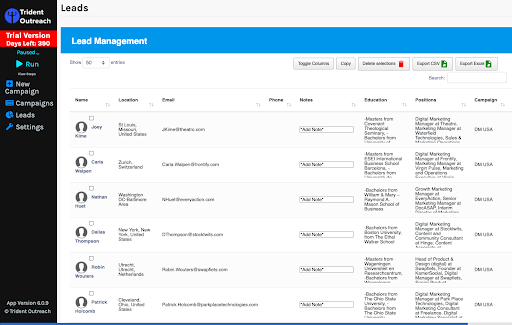 Export your leads for further marketing efforts
Trident Outreach lets you export your leads so that they can be used for marketing campaigns, such as lookalike audiences or digital ads.
Once the campaign reaches everybody in the search, Trident will automatically stop sending out emails but the leads are still yours! Put them to use and you should have a full calendar in no time at all!
Conclusion
By now, I'm sure your mind is racing on how you can use your Sales Navigator subscription to create powerful and multi-faceted campaigns to book more meetings, close more deals, and take your business to the next level.
Take a look at our 60-second demo and sign up for your Free Trial today to get your first 100 leads!

Check out our demo video to see how Trident Outreach can turbocharge your marketing efforts!