How to Craft a HYPER-Targeted Sales Navigator Search
Marketing Sales April 01, 2021
If you are in the B2B space, LinkedIn is potentially the most extensive database you have access to. With over half a billion professionals, there are nearly limitless opportunities to connect with and engage your target audience no matter what niche you are in.
One of the best tools available for prospecting these opportunities is the LinkedIn Sales Navigator, which you can use to build hyper-targeted lists of your ideal prospects.
There's just one issue… most people have no clue how to make a great LinkedIn search, which can destroy the quality of your list and subsequently your marketing efforts.
By knowing how to use LinkedIn's advanced search within the Sales Navigator, you can save hours of combing through bad lists and employ much more effective campaigns.
In this post I'll be showing you how to make highly targeted lists of your ideal prospects (and how to engage them in highly effective sales campaigns).
Targeting
In order to effectively search for your ideal client, it is important for you to have a clear idea of who you are selling to. After that, it's up to you to use LinkedIn's advanced filters to narrow down your search to be as targeted as possible. There are a wide variety of filters you can use, but let's focus on a few of the most important ones in this article.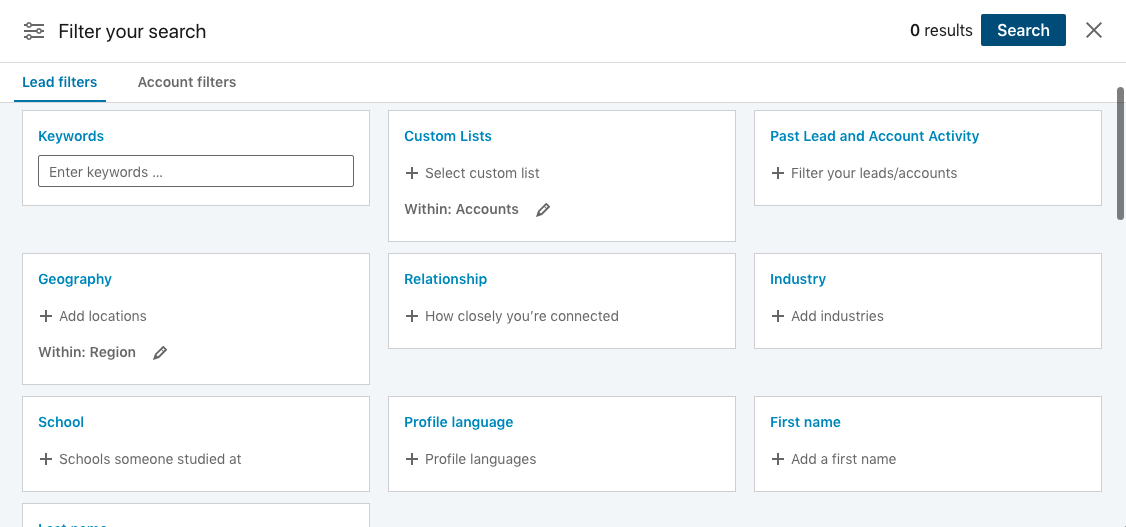 Job Title
It is important to think of the job titles your customers might hold. Are you selling to small business owners? They may hold the title of CEO, Co-Founder, Owner, Founder, etc. However, if you are typically selling to people that manage a certain department within a company, they may hold the title of Manager, Vice President, SVP, etc.
It is important to be thorough when thinking of the titles your target audience might hold.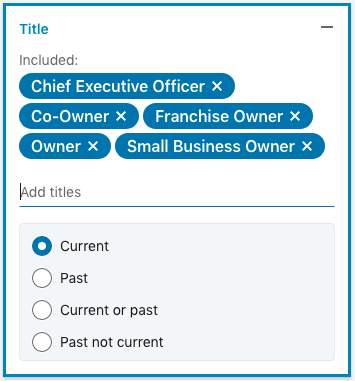 Geography
Engaging with someone you can't do business with is no use. Use the geography filter to narrow down on the location your audience has to be in. Need to close deals in person? Only include people within driving distance in your search. Can you sell to anybody in the country over the phone? Make sure to specify that they must be in the USA using the geography filter.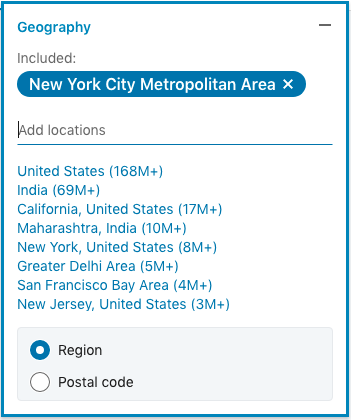 Relationship
Oftentimes, the extent to which you can engage your audience is directly correlated to how closely you are connected. Some 3rd degree connections (friends of friends of your current connections) won't allow you to even send them a connection request. Make sure that if you plan on connecting with your audience and messaging them that you have your relationship filter set to group members and 2nd degree connections.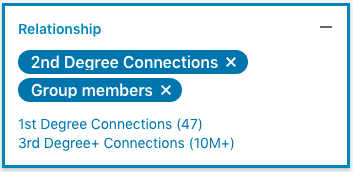 Other filters
Some other filters I strongly recommend checking out to help narrow down your search are:
·   Company Headcount


·   Industry


·   School


·   Company


·   Years in current position

Boolean Searches
The key to incredible LinkedIn searches lies behind knowing how to craft amazing Boolean searches. Boolean searches follow a particular language to tell the sales navigator exactly what to look for with zero wiggle room. A full Boolean search lesson can be found HERE, but some of the basics of it are as follows.
Quotation Marks ("") -
are used to tell the sales navigator to look for an exact phrase. For example, if you type in "Social Media", LinkedIn will know to look for that exact phrase, as opposed to just looking for someone with both those words somewhere in their profile
AND
By using "and", you are letting the sales navigator know that the profiles you are searching for must include both words. For example, "Social media" AND "manager" lets LinkedIn know that you are only looking for people with BOTH those terms.
OR
Lets LinkedIn know to include profiles that include at least one of your terms. For example, "Social Media" OR "Content" lets LinkedIn know to show you people with profiles that include either "social media" or "content" somewhere in their profile.
NOT
Lets LinkedIn know to leave out everyone with a specific phrase in their profile. For example, "sales" NOT "marketing" will tell LinkedIn to only bring you people with the word "sales" in their profiles if they don't also have the word "marketing" in their profile.
Parentheses ()
Parentheses are used for grouping so you can string together multiple conditions in the same Boolean search. For example, if you were looking for decision makers in a roofing company but don't want to include any sales or marketing professionals that are also targeting roofers, your search may look like this:
(owner OR "Vice President" OR president OR Founder OR CEO OR "Chief Executive Officer" OR "co-founder" OR partner) AND (roofing OR roof) NOT (marketing OR sales)
Tips
With the information provided in this article, you should have all the resources you need to craft some highly refined Sales Navigator searches. Some things to keep in mind are:
· Keep exploring new keywords and phrases! Small tweaks to your search can make big differences.
· Make sure to look even deeper into the LinkedIn advanced search features. There may be a new feature you can utilize to your advantage!
· As your list grows, make sure you set your search to remove saved and viewed leads from your search.
Engaging your leads in a structured campaign
Once you have run your search to find your ideal leads, it's time to develop a powerful campaign to warm them up to you and get them pumped into your sales pipeline.
Trident Outreach allows you to turn your sales navigator search into a powerful email campaign. Simply plug in your search and Trident will:
Hunt down and verify the emails of the prospects in your search
Send hundreds of emails a day to your prospects in a custom campaign
Organize your leads in a user-friendly CRM where you can export them in excel or CSV
To get your campaign rolling, simply:
Get started for free here: Trident Outreach Signup

Watch the tutorials and create your first campaign

Let Trident Outreach run and watch your leads list grow and your sales funnel fill up!
Check out the demo video on our tutorial page for a more detailed explanation of how Trident Outreach can turbocharge your LinkedIn campaigns!

Check out our demo video to see how Trident Outreach can turbocharge your marketing efforts!